Make the most of your shopping experience by creating
an account. You can:

Access your saved cars on any device.
Receive Price Alert emails when price changes,
new offers become available or a vehicle is sold.



Not registered? click here
2023 McLaren Artura / 2023 Porsche 911 Comparison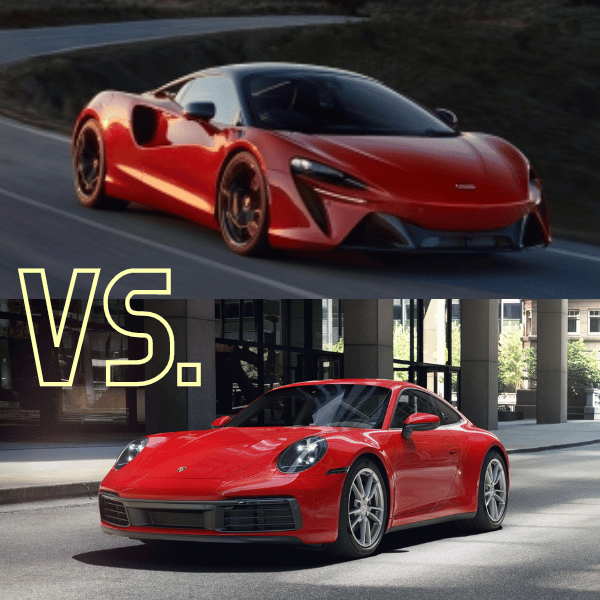 2023 McLaren Artura Compared to the 2023 Porsche 911
Arizona driving demands a sportscar that delivers heart-pounding performance with an upscale edge. The 2023 McLaren Artura is the newest addition to the prestigious McLaren lineup and promises the thrills that other high-end McLaren vehicles are known for. However, the Artura does it differently with the first hybrid powertrain offered by the brand. This unlocks even greater all-around potential for Arizona customers to experience. The hybrid powertrain also helps the new Artura vastly outperform competition such as the 2023 Porsche 911.  
Performance
Putting an electric motor with a twin-turbocharged V6 gas-powered engine results in exceptional hybrid performance that fuels the 2023 Artura with raw power. Driving around Scottsdale and other Arizona locales in a 671-horsepower vehicle is an experience that can't be beaten. Comparatively, the 2023 Porsche 911 comes with a standard twin-turbocharged 3.0L V6 engine by itself. This only generates a baseline 379 horsepower for a considerable lack of performance. Both sportscars pair their engines with eight-speed automatic transmissions for quality smoothness under acceleration. Nimble RWD handling on both vehicles is perfectly suited for everyday Arizona cruising.  
Interior Features
When someone thinks about a McLaren or a Porsche, they immediately gravitate towards cabins that are adorned with only the finest materials and amenities to meet their luxurious expectations. Passengers of either vehicle are surrounded by quality leather and other materials that add elegance as well as comfort. These lavishly equipped cabins are further accentuated with immersive infotainment systems. Compatible smartphones can connect through either system options such as Bluetooth®, Android Auto, or Apple CarPlay depending on what device is trying to connect. However, the Artura goes a step further in its functionality through integrated navigation and SiriusXM® radio capability.  
Safety Features
Feeling every steering input accurately responded to with systems such as Electronic Stability Control and Driveline Traction Control coupled with the respective RWD platforms make these two sportscars as safe to handle as they are fun. Looking to make either sporty coupe even more satisfying to take on long trips on the highway? Equip them with available Adaptive Cruise Control and remove the speed-related elements of a long drive for a more enjoyable driving experience.  
Order a 2023 McLaren Artura with McLaren Scottsdale Today
McLaren Scottsdale is the go-to high-performance vehicle dealer in Scottsdale and surrounding Arizona locales for new McLarenmodels such as the 2023 McLaren Artura. Visit us today and let us help you further compare the Artura with the 2023 Porsche 911. Experience why the first-ever hybrid McLaren promises to be the type of drive that you have been waiting for in Arizona. 
 

2023 McLaren Artura

 

2023 Porsche 911

 

Base MSRP

 

$237,500

 

$107,550

 

Horsepower

 

671 HP

 

379 HP

 

City Estimated MPG:

 

17 MPG

 

18 MPG

 

Highway Estimated MPG:             

 

21 MPG

 

24 MPG

 
(Photo Credit: McLaren / Porsche)
People say about us
Gina Faye is hands-down the best sales rep I've ever had the privilege of working with. She is incredibly down-to-earth and knows how to help you pick out your perfect ride with zero stress involved. I'll no doubt be back with future business.

No pressure and great sales rep

Bought a 720S from them. Was an easy and great experience. The owner CJ is the MAN on the track and he is a real car guy.

Just picked up my McLaren 720s for it's annual service and must say the service department is always on point. The Service Manager, Ralph, and Lead Tech, Nick, who did the actual service, walked me through the annual service and invoice. The attention to detail at this dealership has been amazing! This is my second McLaren I have purchased from the dealership. Jared and Eilon in sales/Management have always gone out of their way to make sure I knew of every option for the car and even some special MSO options to tailor each car to my wants and needs. They offer to pick up/drop off my car, etc. An overall excellent experience!

Best service I have ever experienced! Izzy at Scottsdale Mclaren is an absolute genius when it comes to knowledge about Mclaren's. He went way above and beyond by replacing a missing blade in one of my keys and changing the batteries in each key fob. The down pipes and tune are out of this world! My 2020 720s is truly one of the best super cars! Paul, one of their high end transporters took incredible care of my car and of my wife and I. Paul reached out and helped us get several of our cars up and running. He has become a family friend. I cannot say enough great things about Scottsdale Mclaren! Definitely shop there.

Service center is great. Ralph is extremely knowledgeable and takes care of their customers at the McLaren HQ level. Always a worry with exotic car dealers / service centers but not McLaren Scottsdale.

My husband and I had just gotten our McLaren and only been for 1 short ride when a packrat had made a home in it and caused a lot of damage.Izzy and the crew at McLaren Scottsdale were absolutely great!They went above and beyond to get our car repaired and returned to us quickly. They updated me every step of the way and there were no surprises! Really a pleasure working with them.

Awesome Visit. Eilon was great, knowledgeable and not pushy. My daughter and I stopped in yesterday to look at a couple cars. Friendly greeting when we walked in and good visit all around. Easy relaxed feel where we got to see what we wanted to, got the information we needed and weren't pushed. The cars they had in the Showroom were incredible. my daughter really liked looking at them all and the different colors. While neither car we went to see is the right one for our current needs, we'll definitely check back in the future.

The McLaren Scottsdale experience starts with an amazing lineup of cars. McLaren's racing DNA shows through each one with awesome power, stunning color pallets, and captivating aerodynamic design. These cars need to be driven. They demand it. Whether tracked on occasion or driven daily they deliver a palpable/visceral driving experience. I have been extremely pleased with all aspects of this dealership. Eilon and Jared are great ambassadors of the brand and helped me in the purchase my first then second McLaren. In the shop Ralph, Izzy, and Jaden have been extremely accommodating in keeping first my GT then my 720s spider in top condition. I have been treated very well by this dealership starting at the top with Mike Ward and also his Scottsdale GM Brett Bissey!

5.24.22Excellant showroom of 20 plus McLarens available to view & purchase. Very polite salesmen staff who treat customers with respect. Bravo. Put up with all our buying questions & gave us utmost attention. Let us take our time. Can't sY that of their competition that never looked at us pr gave us service on Scottsdale road. Thanks all at your great dealership. We will be back next week. 5 stars