2023 McLaren Artura Available to Order at McLaren Scottsdale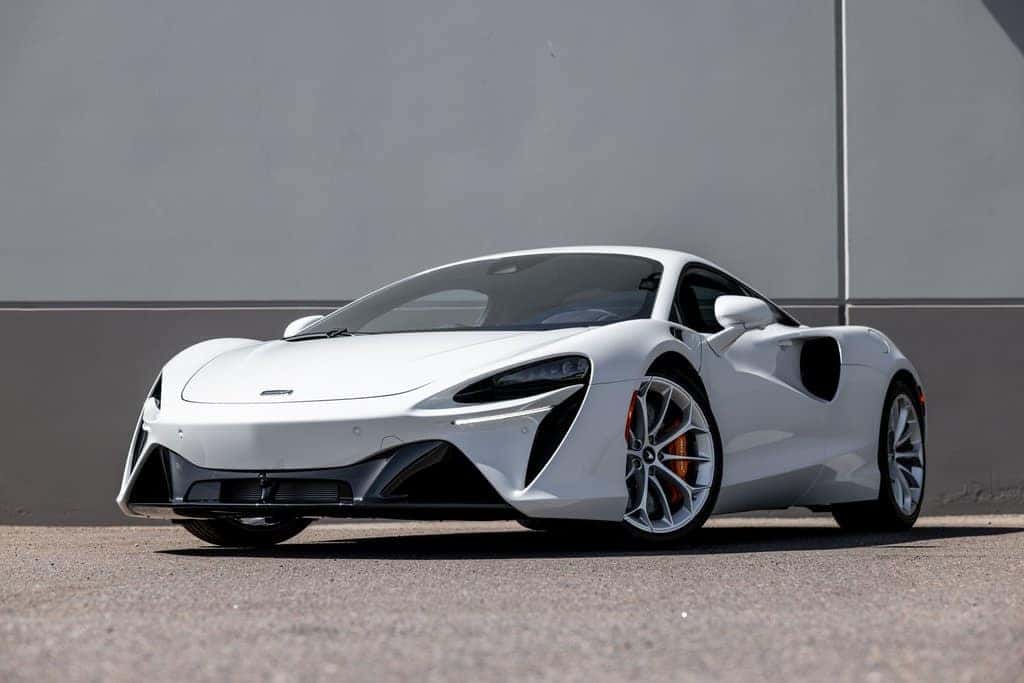 2023 McLaren Artura
BASE MSRP: from $237,500
Horsepower: 671
Combined City/Highway MPGe: 39 MPGe
Get to Know the 2023 McLaren Artura
Arizona drivers looking to stand out from the rest of the crowd will adore the new 2023 McLaren Artura. This is the first-ever hybrid sports car from the legendary brand. Owners of the Artura will enjoy a unique ride that still fulfills the expectations of quintessential McLaren ownership while also being more environmentally fulfilling. They can also count on stepping into a vehicle that is well-equipped for modern Arizona driver needs.
Performance
The 2023 McLaren Artura combines a dynamic twin-turbocharged V6 engine with an electric motor for exceptional performance from a hybrid powertrain. Delivering 671 smooth and robust horsepower, every moment behind the wheel of the Artura will be memorable. Accompanying the hybrid powertrain is an eight-speed dual-clutch automatic transmission that keeps every gear shift responsive for top performance and smoothness. Another innovation the Artura incorporates into its design is the Carbon Lightweight Architecture. This makes the sports car incredibly light for enhanced acceleration and handling proficiency.
Interior Features
Sitting in the 2023 McLaren Artura showcases what the future of McLaren vehicle design will be. Surrounded by high-quality leather and carbon fiber in the cabin, passengers of the hybrid vehicle will adore the elite atmosphere they are encapsulated by. Add on the premium Alcantara® seat upholstery, and the result is a truly superior level of comfort. Infotainment options are easily accessible from the eight-inch touchscreen on the dashboard. These include Android Auto, Apple CarPlay, and Bluetooth® for applicable smartphones to connect with. Integrated navigation and SiriusXM® radio capability are also included for premium infotainment content that everyone in the vehicle will appreciate having at their command.
Safety Features
Thanks to the Carbon Lightweight Architecture that the 2023 Artura is made from, the sports car uses its feathery composition to maximize handling potential. Add on Driveline Traction Control and Electronic Stability Control and drivers of the Artura can confidently tackle whatever driving situation they face. There are additional features that amplify the everyday enjoyment that drivers have when they traverse Arizona. These include Adaptive Cruise Control for less tiring highway driving across the state and beyond.
Learn More About the 2023 McLaren Artura at McLaren Scottsdale
McLaren Scottsdale is the go-to destination for new McLaren models in Arizona. Stop by our dealership and ask one of our knowledgeable sales professionals about how we can help you order the 2023 McLaren Artura that you will love. Being the first hybrid vehicle available from the prestigious brand, you can experience how exciting the future of sports car design will be firsthand.
(Photo Credit: McLaren)