Make the most of your shopping experience by creating
an account. You can:

Access your saved cars on any device.
Receive Price Alert emails when price changes,
new offers become available or a vehicle is sold.



Not registered? click here
Learn About 2023 McLaren 720S Performance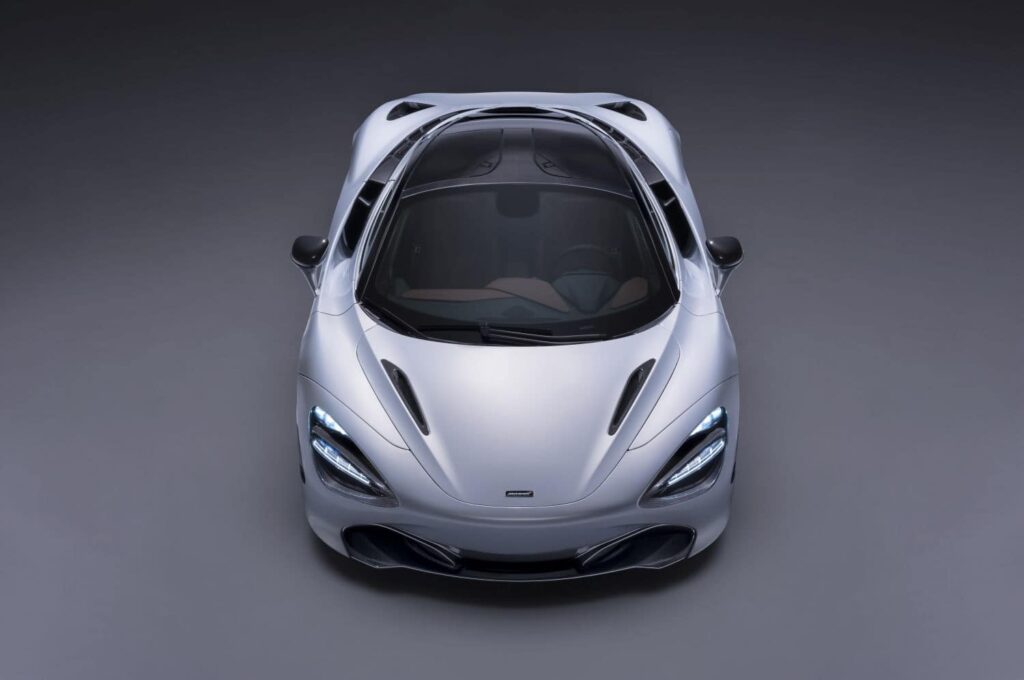 2023 McLaren 720S Performance 
An Elite Engine for a Superior Coupe or Convertible
Regardless of whether a driver is behind the wheel of a 2023 McLaren 720S coupe or 720S Spyder convertible, they can count on having substantial performance at their command. Thanks to the twin-turbocharged 4.0L V8 engine that roars to life with every press of the gas pedal, drivers get to access a comprehensive 710 horsepower and equally impressive 568 lb.-ft of torque. This leaves hearts pounding with excitement knowing that any journey around Arizona will be satisfyingly dynamic.  
Supplementary Powertrain Components and a Dynamic Drivetrain
To help the engine get its maximum performance smoothly, the dual-clutch seven-speed automatic transmission handles every gear shift for the driver. However, the addition of paddle shifters allows those who want to take a more direct approach to their vehicle's performance capabilities to do so. Whether taking a 2023 720S around the track or around conventional Arizona roads, the nimble RWD platform the coupe or convertible rides on ensures accurate response times from steering inputs. As such, drivers can be confident to take corners with the knowledge their racing-inspired vehicle is ready to take the challenge comfortably.  
Learn More About 2023 McLaren 720S Performance with McLaren Scottsdale
McLaren Scottsdale is ready to help you learn everything there is to know about what makes the 2023 McLaren 720S so dynamic. Visit our Arizona dealership and ask for more information about the coupe or convertible's performance. When you choose us for your high-performance vehicle needs in Arizona, you can count on working with a sales team that is committed to meeting your expectations for elite customer service. If you want to order a new 720S coupe or convertible, our team will be more than happy to help!  
(Photo Credit: McLaren)
People say about us
Gina Faye is hands-down the best sales rep I've ever had the privilege of working with. She is incredibly down-to-earth and knows how to help you pick out your perfect ride with zero stress involved. I'll no doubt be back with future business.

No pressure and great sales rep

Bought a 720S from them. Was an easy and great experience. The owner CJ is the MAN on the track and he is a real car guy.

Just picked up my McLaren 720s for it's annual service and must say the service department is always on point. The Service Manager, Ralph, and Lead Tech, Nick, who did the actual service, walked me through the annual service and invoice. The attention to detail at this dealership has been amazing! This is my second McLaren I have purchased from the dealership. Jared and Eilon in sales/Management have always gone out of their way to make sure I knew of every option for the car and even some special MSO options to tailor each car to my wants and needs. They offer to pick up/drop off my car, etc. An overall excellent experience!

Best service I have ever experienced! Izzy at Scottsdale Mclaren is an absolute genius when it comes to knowledge about Mclaren's. He went way above and beyond by replacing a missing blade in one of my keys and changing the batteries in each key fob. The down pipes and tune are out of this world! My 2020 720s is truly one of the best super cars! Paul, one of their high end transporters took incredible care of my car and of my wife and I. Paul reached out and helped us get several of our cars up and running. He has become a family friend. I cannot say enough great things about Scottsdale Mclaren! Definitely shop there.

Service center is great. Ralph is extremely knowledgeable and takes care of their customers at the McLaren HQ level. Always a worry with exotic car dealers / service centers but not McLaren Scottsdale.

My husband and I had just gotten our McLaren and only been for 1 short ride when a packrat had made a home in it and caused a lot of damage.Izzy and the crew at McLaren Scottsdale were absolutely great!They went above and beyond to get our car repaired and returned to us quickly. They updated me every step of the way and there were no surprises! Really a pleasure working with them.

Awesome Visit. Eilon was great, knowledgeable and not pushy. My daughter and I stopped in yesterday to look at a couple cars. Friendly greeting when we walked in and good visit all around. Easy relaxed feel where we got to see what we wanted to, got the information we needed and weren't pushed. The cars they had in the Showroom were incredible. my daughter really liked looking at them all and the different colors. While neither car we went to see is the right one for our current needs, we'll definitely check back in the future.

The McLaren Scottsdale experience starts with an amazing lineup of cars. McLaren's racing DNA shows through each one with awesome power, stunning color pallets, and captivating aerodynamic design. These cars need to be driven. They demand it. Whether tracked on occasion or driven daily they deliver a palpable/visceral driving experience. I have been extremely pleased with all aspects of this dealership. Eilon and Jared are great ambassadors of the brand and helped me in the purchase my first then second McLaren. In the shop Ralph, Izzy, and Jaden have been extremely accommodating in keeping first my GT then my 720s spider in top condition. I have been treated very well by this dealership starting at the top with Mike Ward and also his Scottsdale GM Brett Bissey!

5.24.22Excellant showroom of 20 plus McLarens available to view & purchase. Very polite salesmen staff who treat customers with respect. Bravo. Put up with all our buying questions & gave us utmost attention. Let us take our time. Can't sY that of their competition that never looked at us pr gave us service on Scottsdale road. Thanks all at your great dealership. We will be back next week. 5 stars