Make the most of your shopping experience by creating
an account. You can:

Access your saved cars on any device.
Receive Price Alert emails when price changes,
new offers become available or a vehicle is sold.



Not registered? click here
McLaren P1™: Celebrating 10 years of the pioneering hybrid hypercar heralded as the 'best driver's car on road and track'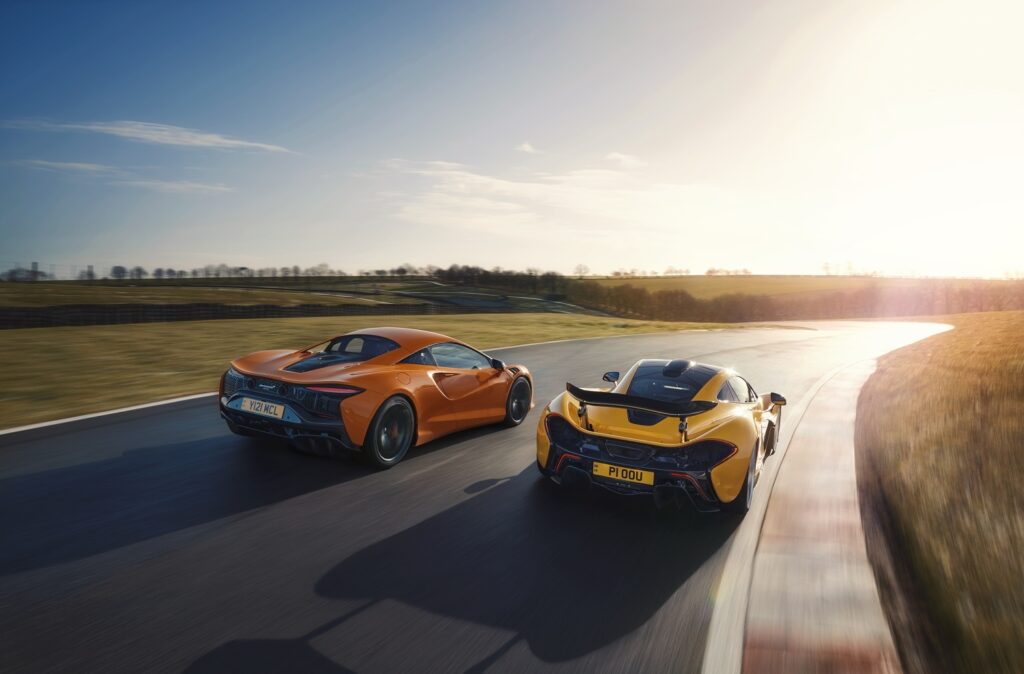 McLaren celebrates this week the 10-year anniversary of the reveal of the production version of the McLaren P1™. Unveiled at the 2013 Geneva Motor Show, this remarkable hypercar is recognised as a landmark both for McLaren and the development of high-performance hybrid vehicles – showcased most recently by the all-new McLaren Artura.
Created with the intention of being 'the best driver's car in the world on both road and track', the design and technical specifications of the McLaren P1™ provided the ideal foundation to deliver on this ambition. A series of testing and development achievements during 2013 – including lapping the famous Nürburgring Nordschleife – immediately cemented the car's credentials.
A 3.8-litre, twin-turbocharged M838TQ V8 engine developing 737PS (727 bhp) combined with a lightweight electric motor producing 179PS (176 bhp) to give a total of 916PS (903bhp). This delivered levels of performance that were – and indeed remain – astonishing: acceleration from 0-100km/h (62mph) in 2.8 seconds; 0-200km/h (124mph) in 6.8 seconds and 0-300km/h (186mph) in 16.5 seconds – a full five seconds quicker than the legendary McLaren F1. A maximum speed of 350km/h (217mph) added to the appeal and reputation of the McLaren P1™, but it was the instant throttle response and torque infill that conclusively proved that electrification could truly enhance modern turbocharged powertrains.
Alongside a benchmark hybridised, petrol-electric powertrain, the Ultimate hypercar was underpinned by two of McLaren's trademark strengths – low vehicle weight and aerodynamic excellence.
The MonoCage carbon fibre monocoque with roof at the core of the McLaren P1™ was a development of the MonoCell structure used in McLaren's 12C supercar and key to optimising mass in a vehicle with a dry lightest weight of just 1,395kg (3,075lbs). DIN weight was 1,490kg (3,285lbs).
The relentless pursuit of light weight remains a priority for McLaren and in 2023 the new Artura –also a high-performance hybrid, but a generously equipped series-production supercar rather than an extreme, limited-edition hypercar – has a DIN weight of 1,498kg (3,303lbs).
The carbon fibre body panels of the McLaren P1™ comprise a large clamshell; single-moulded front and rear panels attached to the central MonoCage; two small access flaps in the rear; a front bonnet and the two doors. Weighing a total of only 90kg, the panels are extraordinarily thin but also very strong. The hybrid battery, which is mounted low inside the carbon fibre MonoCage, weighs just 96kg. Again, this philosophy of minimising weight is evident in the present day, with similar attention strategies applied in the Artura.
The McLaren P1™ had no floor carpet – it was deemed unnecessarily heavy – and no sound deadening. The glass was re-engineered to reduce weight – the super lightweight roof glass is chemically toughened, and only 2.4mm thick. The windscreen is just 3.2mm thick, including a plastic interlayer, saving at the time 3.5kg over the 4.2mm-thick screen of the 12C.
The large rear wing of the McLaren P1™ optimises aerodynamics by adjusting automatically. It can extend rearwards by up to 300mm on track and 120mm on road. This was developed using the same software and methodology as the McLaren Formula 1 team. A DRS (Drag Reduction System) was integrated into the design of the McLaren P1™ to reduce downforce and increase straight-line speed, achieved through the pitch of the rear wing, rather than by using a removable flap.
A combination of CFD (computational fluid dynamics) aerodynamic modelling and many hours spent in a wind tunnel focusing on aerodynamic performance, resulted in downforce of 600kg at well below maximum speed.
Extremely exclusive and highly desirable from the moment it was revealed, the McLaren P1™ sold out within mere months of reveal and by November all 375 cars were allocated. Build of the first of the 375 McLaren P1™ production models – finished in Ice Silver paintwork – finished in September 2013 – by which time it had become firmly established as a performance icon. The final customer-ordered car was completed in December 2015; it was painted in a stunning pearlescent orange, a colour achieved through a unique tinting process that became available in other McLaren models as Volcano Orange.
Ten years after its Geneva Motor Show appearance – and in the year that McLaren also celebrates the 60-year anniversary of Bruce McLaren founding the company – the McLaren P1™ remains an incredibly exciting and dynamically accomplished performer on both road and track.
The enduring legacy of the P1TM extends beyond its iconic status in McLaren's lineage of technologically advanced, driver-focused cars. As a precursor of electrification as an enhancement to driving engagement it changed perceptions of the technology, inspiring the ground-breaking Artura; a supercar that blends thrilling performance and driving dynamics with EV driving capability – a winning combination pioneered by the McLaren P1TM.
McLaren P1™ – ten facts that distinguish an iconic hypercar
The McLaren P1™ accelerates from standstill to 300km/h (186mph) in 16.5 seconds – a full 5.5 seconds quicker than the legendary McLaren F1
The McLaren P1™ can run in full electric zero-emissions mode for short-distance town driving
In Race mode, the McLaren P1™ lowers by 50mm and the spring rates stiffen by 300 per cent, allowing the car to corner at more than 2g
The adjustable rear wing of the McLaren P1™ extends from the bodywork by up to 120mm on the road and up to 300mm on a track
Carbon ceramic discs coated in silicon carbide bring the McLaren P1™ to standstill from 100km/h (62mph) in just 30.2 metres
The Formula 1-style Inconel exhaust follows the most direct route from the engine to the back of the McLaren P1™ and weighs just 17kg
The steering wheel diameter of a McLaren P1™ is as technically precise as a wheel used by McLaren racing drivers: the hand grips of McLaren Formula 1 World Champions were modelled on a CAD system during development and scanned to produce an exact replica
Each McLaren P1™ was custom-built by a team of 82 technicians in a four-stage assembly process. From start to finish, the build of each car took 17 days
During its development programme, the McLaren P1™ covered in excess of 620,000 kilometres (385,250 miles) of testing, equivalent to more than 15 times around the world.
The name comes from Grand Prix racing, 'P1' signalling first place on the grid, but there is also heritage in the name: the McLaren F1 was initially known as Project 1, or P1.
People say about us
Gina Faye is hands-down the best sales rep I've ever had the privilege of working with. She is incredibly down-to-earth and knows how to help you pick out your perfect ride with zero stress involved. I'll no doubt be back with future business.

No pressure and great sales rep

Bought a 720S from them. Was an easy and great experience. The owner CJ is the MAN on the track and he is a real car guy.

Just picked up my McLaren 720s for it's annual service and must say the service department is always on point. The Service Manager, Ralph, and Lead Tech, Nick, who did the actual service, walked me through the annual service and invoice. The attention to detail at this dealership has been amazing! This is my second McLaren I have purchased from the dealership. Jared and Eilon in sales/Management have always gone out of their way to make sure I knew of every option for the car and even some special MSO options to tailor each car to my wants and needs. They offer to pick up/drop off my car, etc. An overall excellent experience!

Best service I have ever experienced! Izzy at Scottsdale Mclaren is an absolute genius when it comes to knowledge about Mclaren's. He went way above and beyond by replacing a missing blade in one of my keys and changing the batteries in each key fob. The down pipes and tune are out of this world! My 2020 720s is truly one of the best super cars! Paul, one of their high end transporters took incredible care of my car and of my wife and I. Paul reached out and helped us get several of our cars up and running. He has become a family friend. I cannot say enough great things about Scottsdale Mclaren! Definitely shop there.

Service center is great. Ralph is extremely knowledgeable and takes care of their customers at the McLaren HQ level. Always a worry with exotic car dealers / service centers but not McLaren Scottsdale.

My husband and I had just gotten our McLaren and only been for 1 short ride when a packrat had made a home in it and caused a lot of damage.Izzy and the crew at McLaren Scottsdale were absolutely great!They went above and beyond to get our car repaired and returned to us quickly. They updated me every step of the way and there were no surprises! Really a pleasure working with them.

Awesome Visit. Eilon was great, knowledgeable and not pushy. My daughter and I stopped in yesterday to look at a couple cars. Friendly greeting when we walked in and good visit all around. Easy relaxed feel where we got to see what we wanted to, got the information we needed and weren't pushed. The cars they had in the Showroom were incredible. my daughter really liked looking at them all and the different colors. While neither car we went to see is the right one for our current needs, we'll definitely check back in the future.

The McLaren Scottsdale experience starts with an amazing lineup of cars. McLaren's racing DNA shows through each one with awesome power, stunning color pallets, and captivating aerodynamic design. These cars need to be driven. They demand it. Whether tracked on occasion or driven daily they deliver a palpable/visceral driving experience. I have been extremely pleased with all aspects of this dealership. Eilon and Jared are great ambassadors of the brand and helped me in the purchase my first then second McLaren. In the shop Ralph, Izzy, and Jaden have been extremely accommodating in keeping first my GT then my 720s spider in top condition. I have been treated very well by this dealership starting at the top with Mike Ward and also his Scottsdale GM Brett Bissey!

5.24.22Excellant showroom of 20 plus McLarens available to view & purchase. Very polite salesmen staff who treat customers with respect. Bravo. Put up with all our buying questions & gave us utmost attention. Let us take our time. Can't sY that of their competition that never looked at us pr gave us service on Scottsdale road. Thanks all at your great dealership. We will be back next week. 5 stars